BBC shared this video of Jenna talking about some of the hardest scene's she's had to film being Clara Oswald for four years! I've also got HD screencaptures from the video which you can view in the gallery!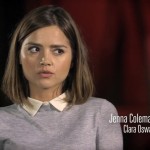 I've added HD Screencaptures of Jenna's amazing performance in the finale of Doctor Who Season 9 entitled "Hell Bent" you can view the screencaptures by clicking on the thumbnail below, enjoy.
BBC released this video of Jenna reflecting back on her time on Doctor Who, I've added HQ screencaps to the gallery as well!
admin
•
November 23, 2015
I've added HQ screencaptures of Jenna's amazing performance in her last episode in Doctor Who, you can view the screencaps by clicking the thumbnail below,enjoy!:)
admin
•
November 16, 2015
I've added HQ screencaps of Jenna in her amazing performance in "Sleep No More" you can view the HQ caps by clicking on the thumbnails below and by viewing them in our gallery,enjoy!:)
admin
•
November 15, 2015
(SOURCE)The Doctor Who Festival ended on an emotional note today, with Peter Capaldi bidding his co-star Jenna Coleman farewell with a huge bouquet of flowers.
As the last panel finished, Capaldi stood to give a heart-felt speech to the actress, who is soon to depart her role as companion Clara Oswald.
ADVERTISING
"We just want to say good luck to you in the future and everything that you do," he said. "We wanted to say thank you for being the most wonderful companion. For giving us the gift of your talent, your time, your friendship and for being Clara. But more important than anything else, for being Jenna."
A clearly touched Coleman embraced Capaldi, before telling fans that, "The last four years have been the most wonderful journey, and incredible, unique, wonderful and mad and amazing.
"I will forever treasure the life experiences. I remember a conversation with Steven [Moffat], actually. We were talking about the 50th anniversary and how it was one of those that we will be looking back on for years and years to come and how special it was that we were apart of that. It's such a special pocket of time. To have had so much warmth and enthusiasm and love from the fans has been incredible."
Coleman announced her departure from Doctor Who in September, telling Nick Grimshaw on the Radio 1 Breakfast Show, "I have left the Tardis and I've filmed my last scenes."
Her announcement came after years of speculation over when the actress would exit the show. Tabloid rumours originally had her leaving in last year's Christmas special, before eventually flip-flopping to say she would in fact be staying on for series nine. Showrunner Steven Moffat later confirmed that she had indeed originally been due to leave at the end of series eight finale Death in Heaven.
"That was her last episode," he told Doctor Who Magazine. "And then she asked me if she could be in Christmas? So I said, 'Okay, I'll write you out in Christmas.' She came to the read through and did the 'write out' version – and again changed her mind. But the truth is I never wanted her to go… She's an amazing actress, and she never stops working to make Clara better. I was very happy to go the extra mile to make sure we could keep her."
When asked about her future on the show, Coleman told Radio Times, "you never feel you've arrived… which is a good thing. It would be quite scary to feel safe. You're in Doctor Who knowing it will never last. It's constantly regenerating, so you want to make your time count and enjoy the adventure for the fleeting time you're here."
Doctor Who will continue with Face The Raven next Saturday on BBC1
admin
•
November 15, 2015
BBC Shared this video of Jenna's last Doctor Who episode "Face The Raven" you can watch it by clicking on the video below! (Beware of the feels) 🙁