admin
•
February 23, 2020
Inside No. 9 has been one of the most original comedy series to hit our screens in recent years.
Each episode of the anthology series is entirely different from the last and so too, for the most part, is the cast of characters in each episode too.
After taking a break from our screens in 2019, Inside No. 9 is back in 2020 for its fifth series and once again has some big-name actors among its cast lists.
The new series debuted on February 3rd with Death in Paradise's new detective Ralf Little among the cast alongside David Morrissey, Steve Speirs and Dipo Ola.
Episode 2, titled Death Be Not Proud, has now also arrived and is another episode to feature some big-name actors as well as one heck of an unexpected crossover.
Check the pictures in our gallery:
Television Productions > Inside No. 9 > S05E02- " Death Be Not Proud "

Television Productions > Inside No. 9 > Posters

Television Productions > Inside No. 9 > Production Stills
admin
•
February 19, 2018
VARIETY – Jenna Coleman will return to her role as British monarch "Victoria" after ITV and PBS Masterpiece greenlit a third season of the royal drama. Coleman plays the young Queen Victoria opposite Tom Hughes as Prince Albert, and who also returns for Season 3, which will continue to follow the life of the monarch and her family and the events of the day.
The second series followed Victoria from her accession to the throne to her marriage to Prince Albert. The show was created by Daisy Goodwin, who revealed the setting for the next outing. "Series three will start in 1848 which was a hugely dramatic and eventful time for both the royal family and Europe, with revolutions on the continent and uncertainty around the monarchy. Viewers can expect more drama than ever before in the third series," she said Tuesday.
The show has fared well on ITV in the U.K. with Season 2 garnering a 25% audience share. It is sold internationally by the broadcaster's distribution arm, ITV Studios Global Entertainment, which has done deals in 150 territories for the show.
It is produced by ITV-backed Mammoth Screen. Company managing director Damien Timmer said: "Jenna Coleman and Tom Hughes shine as Victoria and Albert and it's an honor to have them back for a third series, which covers a tumultuous period in our country's history, filled to the brim with royal scandals, political skirmishes and constitutional crises, as new historical figures enter the saga to challenge Victoria and Albert as never before."
"Victoria" is a co-production with Masterpiece on PBS, with PBS' Rebecca Eaton among the executive producers. The new season was commissioned by ITV's head of drama, Polly Hill, who said: "Filled with romance, political crises and family drama, Daisy Goodwin's scripts bring this fascinating part of history to life so vividly and we look forward to regaling audiences with the next part of the illustrious queen's reign."
There's much excitement in TV drama circles about ITV's lavish eight-part drama Victoria charting the early life of the great Monarch.
But who to play her?
RadioTimes.com can reveal that ITV is aiming high and has a list of possibles which is big on the glam stakes for the Daisy Goodwin-scripted spectacular which starts filming in the autumn for broadcast next year.
Casting folk are sizing up Game of Thrones star Emilia Clarke (Mother of Dragons' Daenerys Targaryen) as well as Downton's Lady Rose herself, the actress Lily James.
Model/actress Cara Delevingne is another contender and, if that's not enough, actress, model and Kick-Ass star Chloe Grace Moretz is also being considered.
Last but not least on the list is Doctor Who star Jenna Coleman who, if tabloid reports about her friendship with Prince Harry are to be believed, could one day become proper royalty herself….
Made by the production company behind Poldark, Mammoth Screen, the drama will imagine Britain's longest reigning monarch "who leaves childhood behind when she ascends the throne at the tender age of 18."
Said Goodwin: "I've been fascinated by Victoria since I started reading her diaries at university. She's a woman whose personality leaps off the page – a tiny 4 foot 11 teenager who overnight became the most powerful woman in the world, and her candour and spirit makes for an irresistible heroine.
"Victoria was the first woman to have it all; she had a passionate marriage, nine children and was grandmother to most of Europe's royalty, but she also had a job, being queen of the most important nation in the world. It wasn't easy; her reign was beset by scandal and sleaze and it was only by sheer force of personality that she prevailed. Her diaries, all 62 million words of them, give an astonishingly vivid picture of her transformation from rebellious teenager into, to my mind, our greatest queen."
Victoria will be the screenwriting debut for the novelist who has published historical novels My Last Duchess and The Fortune Hunter.
Filming will start in September.
Hello Lovelies! I have gathered brand new filming images of Jenna and co star Peter Capaldi filming in Hillside Street Cardiff, I hope you enjoy viewing them in our gallery jenna-coleman.org/gallery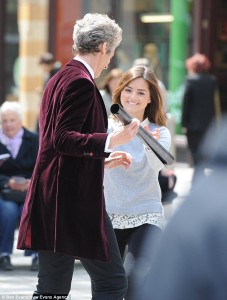 Gallery Link:
Doctor Who Season 9 Filming Images>
June 10th:Filming in Hill Street Cardiff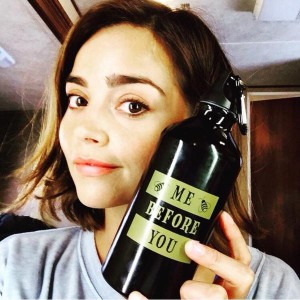 Jenna posted this photo on her Instagram a couple of hours ago, is this hinting she is filming her new movie role Me Before You? We hope so! You can now visit the photo in our Gallery and also on her Instagram @Jenna_Coleman_
I've gathered filming images of Jenna today on set for Doctor Who, she looks amazing! We hope you enjoy seeing the images in our Gallery
Gallery Link:
Doctor Who>Season 9 Filming Images>
May 25th: Jenna on set in Canal Park Cardiff
I've finally gathered new filming images of Jenna filming the brand new season of Doctor Who, She has been filming in various parts in Cardiff and they look wonderful! We can't wait for season 9 to air!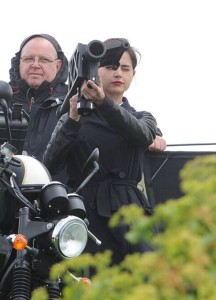 Doctor Who season 9 Filming Images>May 11th:Jenna on set in Cardiff
Doctor Who season 9 Filming Images>May 18th:Jenna on set in Cardiff