Jenna Coleman reflects on her incremental steps to success, the thrill of being spontaneous enjoying where she is in life and more.
IT'S GREAT TO MEET YOU, JENNA! I READ YOU DISCOVERED YOUR PASSION FOR ACTING WHEN YOU WERE TEN. WAS PERFORMING THE PLACE WHERE YOU ALWAYS FELT INNATELY CONFIDENT?
No actually, I would say the opposite, it took me a very long time. When people think about kids who find drama when they are younger, they might think there is this innate confidence. I was definitely more introverted so balancing the introvert and extrovert took me a long time. I started dancing when I was about four and doing shows. I began to feel creative in my body and then that transitioned into storytelling and plays. From a young age, it all felt very clear that this fitted me. My brother always says to me that he wished he knew what he wanted to do when he was so young because so many people can be late coming into it. It can be such a gift if you find the thing that makes you come alive.
HOW DID YOU TAKE THAT LITTLE GIRL'S DREAM AND TRANSITION TO THE BIG LEAGUES OF ACTING?
I put all of my eggs in one basket. I was in a period of my life when all of my friends were going on gap years and traveling and I was a bit on the fringe doing plays. I think it was a couple of things, like fear, having nothing to fall back on, and incremental steps, and to be honest, it always feels like that. You are constantly playing snakes and ladders. You can do a project that completely hits and then maybe the next one won't do that—there is never a linear path.

AS A CREATIVE, YOU JUST HAVE TO LEAN INTO THAT BECAUSE THE ROAD ISN'T STRAIGHT, AS YOU SAID. YOU NEVER KNOW WHAT DOOR COULD LEAD YOU SOMEPLACE GREAT. IT'S ALMOST A GAMBLE.
I think there is something really exciting about that. I have friends who know what dinner they are going to have every day of the week. I don't know if I will even be in the country next week (laughs), so I am the opposite. I am unbelievably last minute, but I find the spontaneity and change like running away with the circus. I find it exciting.
I AGREE! THERE IS THIS GREAT QUOTE BY PAOLO COELHO AND HE SAID, "IF YOU THINK ADVENTURE IS DANGEROUS, TRY ROUTINE; IT IS LETHAL", I LOVE THAT. HOW HAVE THE CONCEPTS OF PERSISTENCE, GRIT, GRACE, AND TAKING CHANCES FACTORED INTO WHERE YOU ARE NOW?
When you are younger, I think you are more fearless. When I look back, there was a lot more rejection back then. It was definitely persistence that got me through because I didn't even get into drama school the first time around.
REJECTION CAN DEFINITELY BE HARD TO TAKE ESPECIALLY WHEN YOU ARE FIRST STARTING.
When you are rejected, you might think it's trying to say something about you. But understanding that rejections aren't anything personal is a good way to look at it. It's interesting, as I have gotten older I see things from another table. It's a lot easier to separate that it's about a role and has nothing to do with you. It becomes easier to process.
IN MY EXPERIENCE, SOMETIMES REJECTION CAN ALSO BE THE BIGGEST BLESSING.
A friend of mine, who is very zen and wise, always tells me, one door opens, another door opens, another door opens. There is something exciting about one door closing and thinking, what is next?  I love how I am sounding very zen, it isn't always my way of thinking (laughs) but on the good days it's a good thing to hold onto, but it is a roller coaster. Just remember the doors (laughs).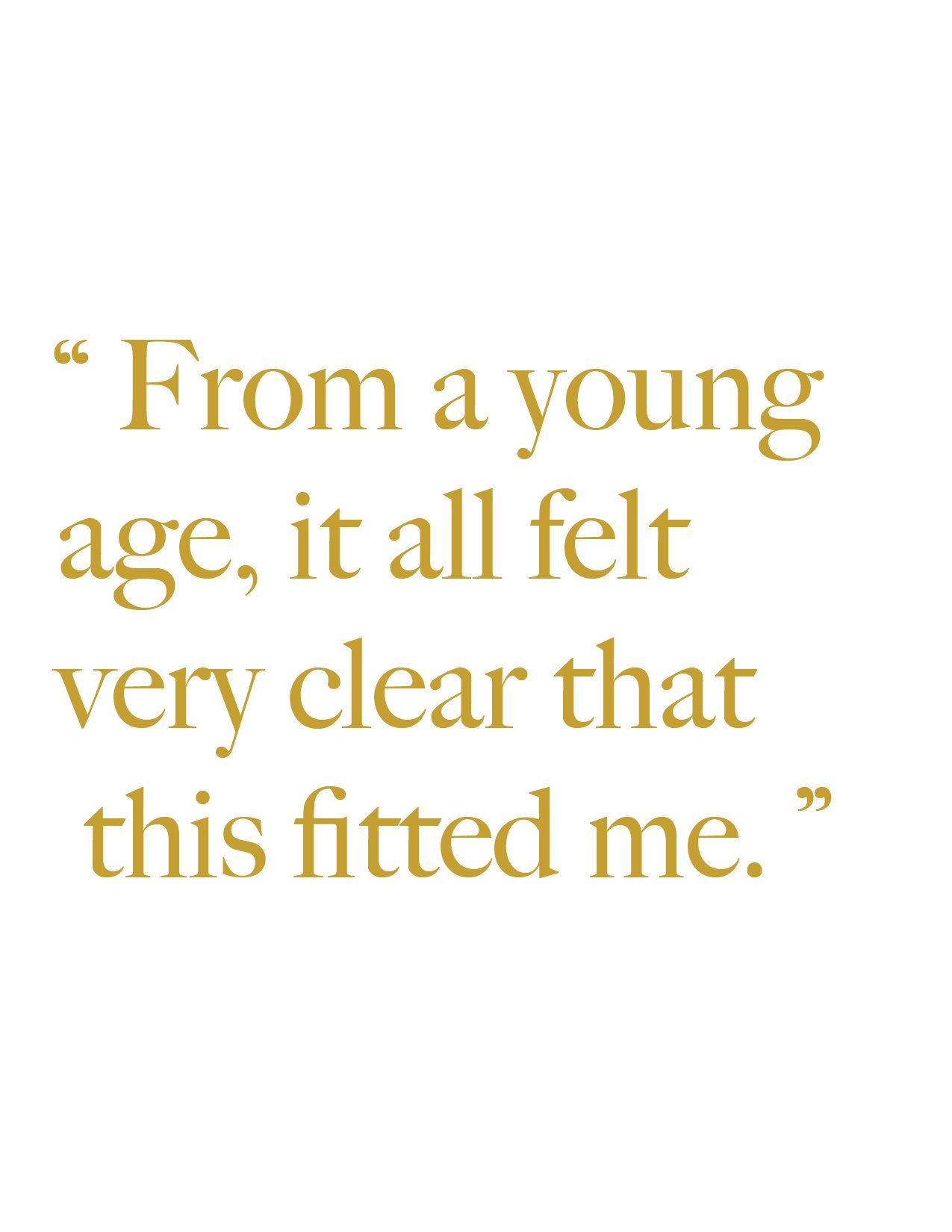 YOUR BREADTH OF WORK IS PRETTY AWESOME. WHAT WOULD YOU SAY HAS GUIDED THE DECISIONS YOU'VE MADE THROUGHOUT YOUR CAREER SO FAR?
It's always about scripts and tapping into your instincts. There also comes an element when you have to be really brave to say no to certain things, in terms of the chess game of decision-making. For me, it's been about going against what I have just done. I try to turn against certain typecasts and do something different all of the time, whether that means going from theater to film to independent films.
REFLECTING, IS THERE ANYTHING YOU WISH YOU KNEW THEN THAT YOU KNOW NOW ABOUT LEADING A CREATIVE LIFE?
I think women, in particular, can be very hard on themselves. I think back to that time when I used to beat myself up so much; I was at war with myself. There was so much energy I had spent during that time fighting with myself versus being accepting. I regret that wasted energy in my 20s.
SO MANY WOMEN CAN RELATE TO THAT, INCLUDING MYSELF. WHEN IT COMES TO ART IN GENERAL AND INSPIRATION FOR YOUR WORK, HOW DOES THE ART YOU CONSUME INFLUENCE YOUR WORK?
I get into different molds for different projects. Music is important to me, especially when I am filming. It gets me out of my head and makes me more instinctive. I love to dissect and analyze so anything that knocks me out of overthinking.  I build a music list over the course of the job; sometimes I have done projects where the composer sends me music so I can find the tone of it. Visually, it's about watching other people's work and going to the theater. I love fashion, art, and interior design–my eyes are definitely magpies.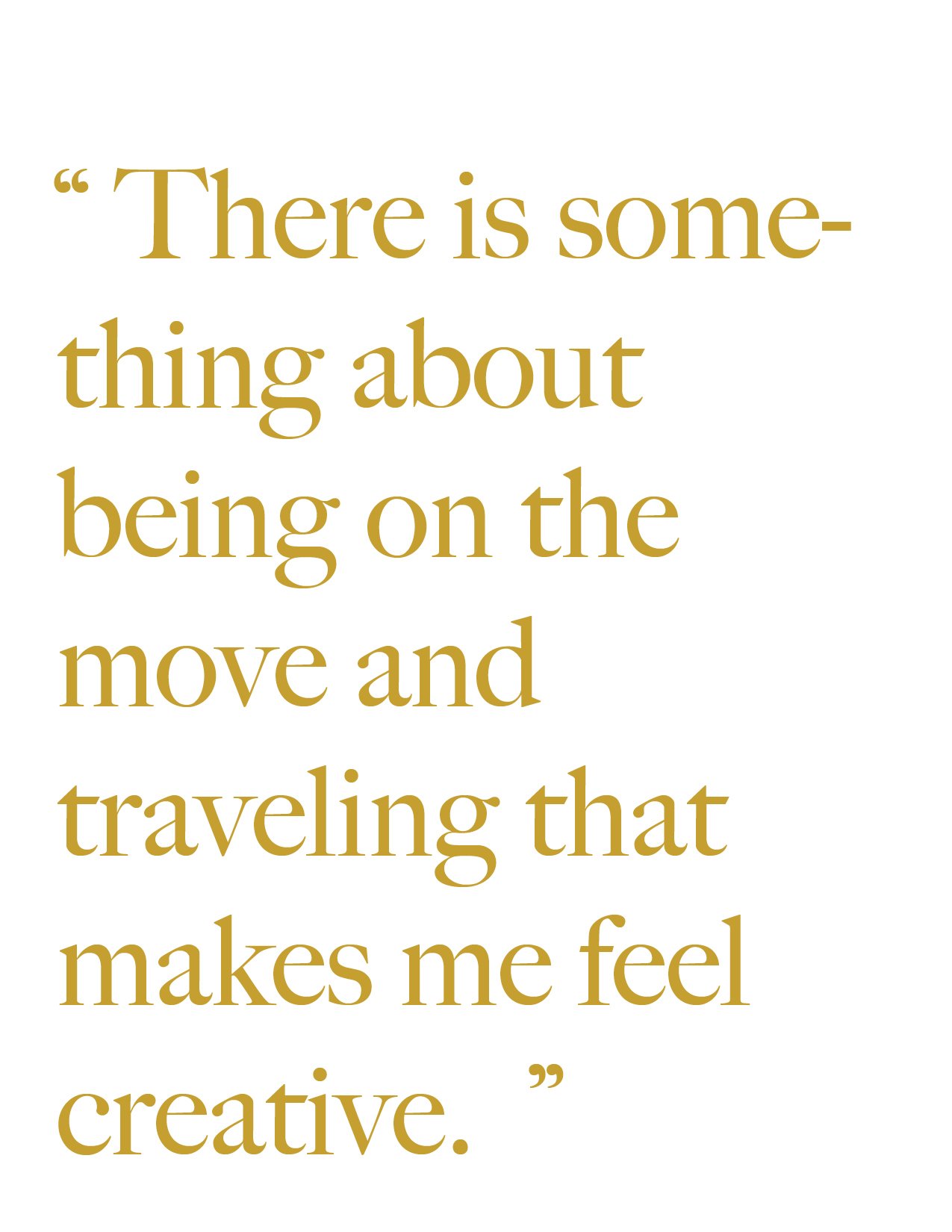 HOW DO YOU STAY INSPIRED BETWEEN WORK, ESPECIALLY NOW, GIVEN THE STRIKE?
I recently finished a play in the West End and then I traveled. I had never had such an extended time to be able to do that. It was very last minute, but I drove from the heel of the boot of Italy up to Venice. I love to travel so much because when you come home your perspective feels different. I look at my house differently; I have come back with things mentally. I went to Pompeii and these ghost towns and that feeds me because you start thinking about films and different ideas. There is something about being on the move and traveling that makes me feel creative. It's about momentum and changing four walls for a second and then going back to it with a new lens. It's a very healthy thing.
THAT SOUNDS AMAZING AND DELICIOUS. ARE YOU SOMEONE WHO HAS A VISION BOARD FOR THE FUTURE?
I don't know if I am superstitious, but I am someone who goes with the flow. There is a great Virginia Woolf quote that says, arrange whatever pieces come your way. I like it because it's about dealing with whatever is right in front of you instead of feeling like you are chasing and grabbing. It is how I have been but I am beginning to think about further on the horizon and the types of things I want to make in the long term. I think you can only get that perspective when you have the time.