Jenna attended a new event yesterday  The Newt In Somerset x RHS Chelsea Gala Event  Photos have been added, enjoy!
Jenna attended the Chanel Pre Bafta Party in London! I've added photos of her appearance to the gallery, enjoy!
Photos of Jenna attending the Lemons play press night can be found in the gallery! Enjoy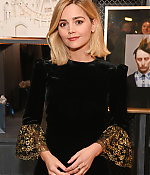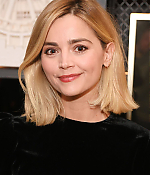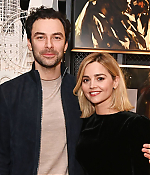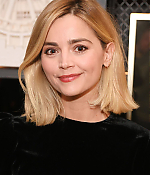 Telegraph-As she hits the West End, the actress reveals how she beat 'The Serpent' curse – and why she dreams of putting Blackpool on the big screen.
"Can you imagine what you'd say," asks Jenna Coleman, "if the Government was about to enforce a law that meant you could only speak 140 words per day?" She shakes her head and takes a bracing slug of coffee. "If you were in a relationship, I think you might decide to just get it all out before the law came in. Have an exorcism, spit out all the problems and see where that leaves you."
This is what happens in Lemons Lemons Lemons Lemons Lemons, a play by Sam Steiner which explores a young couple's response to a dystopian world in which words are rationed by "hush laws". In a new production opening in the West End this month, 36-year-old Coleman – best known for her TV roles in Doctor Who, Victoria and The Serpent – will star as rule-abiding lawyer Bernadette who meets and moves in with rebellious musician Oliver (Poldark star Aidan Turner) as the hush laws become increasingly harsh.
"Obviously those kinds of laws would be totally unenforceable," admits the show's director, Josie Rourke. "So it asks you to play along and consider how relationships survive under extreme circumstances. It's not a pandemic play, but it will resonate with people who found the cracks in their relationships widening during lockdown."
Rourke notes that Coleman shares a "considered clarity" with her character, which is evident when I meet the actress over a pre-rehearsal breakfast. There's a crisp definition to her black and white clothes and peroxide bob (dyed for her role as a "pixie punk biker" in upcoming movie Jackdaw), and she weighs her answers to my questions with care.
"I'm a bit of a turtle," she says with a grin. "I come out of my shell for work and then I like to pull myself back in. Go home, shut the door, read a book."
Born in Blackpool in 1986, and named after Priscilla Presley's character in the American soap opera Dallas, Coleman is a carpenter's daughter whose grandfather "has worked on the promenade, running hoopla and darts stalls, since the 1960s. He's in his 80s now and still has a shed full of giant teddy bears. He gets on his bike and goes down there every day in the summer."
Coleman has fond memories of her seaside childhood spent "running around the rock factory, racing down the promenade". But while her older brother Ben followed in their father's footsteps, becoming a joiner, Jenna was a more academic child who was made head girl of her school.
"I've got a complicated relationship with Blackpool," she says. "Growing up, I'd be doing my Saturday chores aware that other people had come there for these more extreme experiences. It's like Glastonbury, in a way. People are there to lose themselves, wanting a kind of obliteration.
"Somebody recently gave me a great book of photographs of stag and hen dos in Blackpool. There's lights, glitter, happiness, feathers! Then this undertow of sadness. There's something very cinematic about it and I really do want to make a film about it one day…"
She tails off. "But I needed to be an actor and I didn't know how to make that happen in Blackpool. I wanted an unpredictable life. I was looking for different experiences. I wanted to tell other stories."
Coleman joined a local theatre company while still at school, won an award for her performance in a production they took to the Edinburgh Festival, then in 2005 turned down a place to study English at York University to take on the role of lonely schoolgirl-turned-investigative journalist Jasmine Thomas in the popular TV soap Emmerdale. She was shocked and thrilled when the show's writers took her "shy, moral" character on a four-year arc which ended with her battering to death her boyfriend (played by Paul McEwan) after he attempted to rape her.
'It was such an adventure': Coleman as Clara Oswald in Doctor Who episode Invasion of the Zygons CREDIT: Simon Ridgway/BBC
Coleman went on to play hard girl Lindsay James in the long-running school drama Waterloo Road (2009), a cockney sparrow in Julian Fellowes' four-part miniseries Titanic (2012) and feckless Lydia Wickham in the BBC adaptation of PD James's Jane Austen spin-off Death Comes to Pemberley (2013).
But she was best loved as Clara Oswald (playing three versions of the character in different eras) for the seventh, eighth and ninth series of Doctor Who between 2012 and 2015. Having never seen the show before she auditioned, she admits she was "terrified of getting involved until I met Matt [Smith, the Eleventh Doctor]. Then I realised: this is going to be fun! It was such an adventure."
Her favourite scene came in the Christmas 2012 Special called The Snowmen, in which she played a Victorian barmaid who climbed up an invisible spiral staircase to find the Tardis parked on the clouds. "It was like being in a kids' storybook," she recalls. "There was something so Alice in Wonderland or Willy Wonka about it. Climbing up into a world of imagination." Coleman adds that Steven Moffat, who wrote for the show between 2005 and 2017, "has the most brilliantly inventive mind. He writes scenes that are so beautifully moving without ever tipping into sentimentality. Although when Peter Capaldi took over as the Twelfth Doctor they would have these intense, sci-fi nerdy conversations in a language I didn't understand!"
Playing Clara gave Coleman access to the weird world of science-fiction fan conventions, which was a bit of a lark. "Whovians are a real community," she says, "they can be so joyous." She recalls one fan proposing to another while she was standing in between them and hopes they are still together. Young Whovians often asked her where she'd go if she had a time machine and she used to reply: "Ancient Egypt, obviously." But today she thinks she may opt instead "to drop into a great gig. I might go and see the young Sinatra. Or perhaps some soul. Curtis Mayfield, maybe?"
In 2015 – the year she was pictured on the cover of The Sun at a party with Prince Harry, whom she later described as "a friend of mine" – Coleman was cast in the title role of ITV's royal drama, Victoria. She was approaching 30 when she began shooting the series as the 18-year-old monarch. "I've got a baby face," she nods, before pointing out that her youthful appearance may not always have worked in her favour. "There are parts that I should maybe have been playing where people will have thought: you can't do this, you look like a 15-year-old child!"
But she found inhabiting Victoria (opposite her then off-screen partner Tom Hughes as Albert) a "really fascinating experience. We're so used to thinking of her as this stern-faced woman in portraits. So still and unamused. But I really grew to admire how fiercely, unapologetically opinionated and passionate she was. You can see that in her diaries, where she'd had too much sherry mixed with whatever and the words come spilling on to the page. She never bent herself to fit the role, or hid behind it. She got involved. She wrote to the police about Jack the Ripper, she wrote to the Elephant Man once a year. If they'd had social media in the 19th century she'd have been on Twitter all the time!"
Then, in 2021, came The Serpent, the BBC's eight-part true crime drama about the serial killer Charles Sobhraj (Tahar Rahim), who drugged and murdered at least a dozen expats and travellers on the Far Eastern "hippie trail" in the mid-1970s. In a shift away from her more wholesome roles, Coleman beguiled viewers as Sobhraj's inscrutable Quebecois fiancée-accomplice Marie-Andrée Leclerc. "Her psychology was so fascinating," says Coleman. Leclerc died of ovarian cancer, aged just 38, in 1984. But she left behind diaries which helped Coleman understand her. "Charles became her God. She clung to him with this almost religious need. I think she was quite willingly under his spell. There was such intensity in the way she wrote. She enjoyed feeling that pain, enjoyed the self-sabotage and was addicted to being treated cruelly."
Coleman still sounds vaguely rattled by the "mysterious" series of "fluke incidents and accidents that plagued the shoot" of The Serpent, during which, she says, "I had a nasty fall. It ended with the Thai crew going to temples to try to rid us of 'The Serpent Curse'. I remember standing with Tahar on set, saying we have been through it all now, what else can go wrong? Cue Covid and the closing of international borders…"
Last month, Sobhraj was released from prison in Nepal, where he had served a 19-year sentence for his crimes. He is now threatening to sue the BBC over the "falsified" series. How does Coleman feel about that? Like the sensible head girl she still is, she tells me that she's "sorry for the bore" but she's "probably safer" not to comment.
Since making The Serpent, Coleman has stopped watching her own performances . "I used to view the rushes, to help me find the right tone. Maybe some of that's because I didn't go to drama school and I felt like I was learning on the job, catching up." Least enjoyable of all, she says, was "watching myself when I was playing a character close to my own, like in Doctor Who".
She shrugs. She's currently in a relationship with Jamie Childs, who directed her in the recent Netflix adaptation of Neil Gaiman's fantasy adventure The Sandman, but tells me she hasn't seen any of it. "There's something very nice about letting go."
Over Christmas, Coleman went home to Blackpool and blew away the cobwebs on the prom. She's still close to her childhood friends there and doesn't feel that her fame has changed their dynamic. "I go away for long periods. Like this summer, I was in the US and Canada for six months, filming a series call Wilderness about a woman trying to kill her husband on holiday at the Grand Canyon. It was an intense experience and it probably changed me. But all my friends have been through their own experiences. One has been living in Costa Rica, another has been through a breakup and started dating again. So we're always having to find each other again."
In Lemons… the characters lose and find each other over the years. "It's been so interesting to see the ebb and flow of a long-term relationship distilled down like that," says Coleman. "Reading the script I'm always asking myself: what row have they just come from? It raises questions about what they choose to say and not say: where they leave silences and where they spend words on lies." Coleman finishes her coffee. "Couples build their own language over time. Shorthand. But does 'loveoo' mean the same as 'I love you'?"
What does Coleman think?
"Oh, I think we all need to work that one out for ourselves!"

Jenna Coleman and Aidan Turner was on Sunday with Laura Kuenssberg to talk all things Lemons Lemons Lemons. Screencaps of the Interview can be found in our gallery!
Jenna Coleman and Aidan Turner appeared on This Morning (January 27) to talk all things Lemons, Lemons, Lemons! Photos have been added to our gallery, enjoy!

Having starred in some of Britain's biggest TV shows, the pair are taking to the stage for Lemons Lemons Lemons Lemons Lemons, a minimalist two-hander where words are strictly rationed. And they can't stop talking about it
This is it," Aidan Turner says, swooping his hand across the large and largely empty rehearsal room. "No props, no furniture. Nothing to hide behind." Sliding into a seat across the table from him, Jenna Coleman replies mischievously: "Unless I hide behind you."
The pair are soon to perform in Sam Steiner's tender two-hander, Lemons Lemons Lemons Lemons Lemons, a play that has worked its way up from the fringe to the West End. "The main thing I've heard about the original," Coleman says conspiratorially, leaning forwards on her elbows, "was that they had great chemistry."
"Ah," Turner sighs, hands thrown in the air, grin wide across his face, "so we're doomed."
Lemons is a kaleidoscopic exploration of a relationship. Oliver and Bernadette are a musician and a lawyer who meet in a London pet cemetery and tumble easily in love. "They have really different energies," Coleman says. "Oliver's poetic and passionate, and she's more pragmatic and measured." The relationship becomes strained when a new piece of legislation is introduced. Known as the "hush law", it decrees that everyone in the country is limited to speaking 140 words a day. Once you've used up your allowance, you physically can't say any more.
The law radically changes the way Oliver and Bernadette live and communicate, and fissures in their relationship start to show. They come home each day with a different number of words saved for each other. "One hundred three," Oliver offers, after having stored them all up for her. "Seven," Bernadette says, not having done the same. Their dialogue becomes increasingly fractured as they try to squeeze everything they want to say into as few words as possible, and rely on gesture, even an attempt at learning morse code.
Three weeks into rehearsals, the laughter between the two actors is quick and easy. More familiar with larger casts, Turner describes the experience as a uniquely "intimate creative endeavour". Having cut his teeth at Dublin's Abbey theatre, he rose to fame as the much fawned-over Cornish protagonist in Poldark, and recently appeared as a chilling clinical psychologist in ITV's grisly thriller The Suspect. Starting out with scene-stealing roles in Emmerdale, Coleman later played Clara, beloved companion to Matt Smith and Peter Capaldi's iterations of the Doctor in Doctor Who. She most recently played an occult explorer in Netflix's adaptation of Neil Gaiman's fantasy The Sandman. They are two of Britain and Ireland's biggest TV stars of the past decade, but joking around in the rehearsal room, they seem like old friends, entirely void of the uptightness of fame.
A lighter story compared with their most recent TV appearances, Lemons marks the first time the two have performed together, although they had encountered each other a handful of times before. "My grandma met you at Wimbledon," Coleman reminds Turner. "We got sat together for sandwiches between sets. My grandma was like: 'Look at his hair!' I think she went to touch it." Coleman slaps an imaginary wrist away. "'You can't touch Aidan's hair!'" They appear relaxed and comfortable, chatting breezily before we dive into any actual questions. When Coleman lists the reasons why she said yes to taking the part, she finishes with, " … and Aidan". He nods smugly and she rolls her eyes.
It's so interesting what this does to your physicality. Without freedom of expression, it changes a bit of who you are
Directed by Josie Rourke, the former artistic director of the Donmar Warehouse and director of the Bafta and Oscar-nominated Mary Queen of Scots, Lemons will run at the Harold Pinter theatre before going to Manchester and Brighton. The production will be sparse and simple: just the two actors and their limited word count. "When you read a script now," says Turner, "it's so easy for your first thought to be: 'This would be a great six-parter on Netflix.' You're already trying to evolve it. But when I read Lemons, I knew this was fundamentally theatre. That's what it exists for."
Coleman describes Lemons as a sudoku of a play; she was drawn to the challenge of trying to solve it. Jumping back and forth in time, before and after the hush law, Lemons is made up of 102 different fragments. "This is our ellipsis," Coleman says, leaning over the back of her chair to point to a large oval of dozens of coloured cards on the floor, the only indication in the room of any kind of stage. "This is how we began."
The cards are arranged in a rainbow ring, scrawled with numbers and words. "These are the scenes unfolded in chronological order," she explains. They've colour-coded them so that the tones correspond to the health of Oliver and Bernadette's relationship. "Lovely lilac is dating, blossoming blue is their beginning." Coleman points further round the ring. "That's yikes yellow." What about the stickers? "It's when things are present," she says, "or when we're choosing to not talk about something." Namely, Oliver's ex and the question of babies. "You're having a conversation but really the scene is about something else." While the political ramifications of the hush law are unique, much of the way it affects their lives may feel familiar. "It's so reflective of so many people's relationships," Coleman says.
The show, which Coleman describes as "full of humanity and love", began its life as a collaboration between students and alumni of the University of Warwick. After becoming the talk of 2015's National Student drama festival, and selling out at three consecutive Edinburgh fringes, the script has gone on to be studied on postgraduate courses and performed in more than a dozen languages around the world.
"I just love their relationship," Turner says, "and it still really makes me laugh."
Coleman shakes her head. "There's a falafel joke that gets Aidan every time."
Through the lens of Oliver and Bernadette's partnership, Lemons considers the worth of every word. "We've done exercises where we count the words as we say them," Coleman says, "and it's so interesting what it does to your physicality. Without freedom of expression, it changes a bit of who you are."
With Rourke, they've played around with the idea of spending your words as if each one is a coin, and holding an armful of props that you drop with every word, so that you feel the impact of each one disappearing. "When you're literally holding the thing as it diminishes," Turner says, "it makes you value language in a different way."
Raising questions of censorship and privilege, the script feels prescient. "It has a slightly dystopian feel that mirrors the lockdown period," Turner says.
"Both make you ask similar questions," Coleman suggests. "'Are we in this suspense for ever? Is this the world now?'" In the play, the couple hold off certain topics of conversation – again, Oliver's ex and the question of babies – to when they expect the hush law to be lifted, gradually realising that it might never be removed. Running alongside the politics is the uncertainty of whether their relationship will survive long enough to see the end result.
Over the course of the play, the couple develop a private language – "a shorthand", Coleman says – and this is something the two actors have developed quickly in the intensity of the rehearsal room.
"You do catch yourself thinking: 'If anyone overheard what we're talking about,'" Turner laughs, "'it would sound ridiculous.'" They'll often speak in half words and gestures, and immediately get what the other means. "The more relationships develop, the more you just feel from somebody's tone of voice what they need," Turner says. "It's not always about how much you need to talk or the words that come out. You become more in tune with each other."
As two of the most sought-after performers around, they have their pick of future projects. But neither seems to take that for granted. "Do you know what you're doing?" Coleman asks Turner. "I don't know what I'm doing!" He shakes his head emphatically. "I think that's why we're sitting here, doing a play called Lemons Lemons Lemons Lemons Lemons. It's scary and challenging and terrifying, but when it's great, it feels brilliant." He beams, bright and earnest. "I don't think I ever want to get to the position where I feel like I know what I'm doing. If you do, I think, as a creative person, you're in trouble. You want to keep feeling scared."
Towards the end of the play, Steiner writes a scene that allows the actors a moment of wild relief. Amid growing tension, a whole day's words are gleefully thrown away with a song. The intention is for each production to choose a different song, so what's it to be? "No way!" shouts Turner, waving his arms excitedly. "No way am I telling!" They spent an entire day auditioning songs, Coleman reveals, like an extremely intense round of karaoke.
"I have a very limited vocal range," Turner admits, "but Jenna's got a great voice. If the range is here" – he stretches out his arms – "I can do this bit." His hands come in, a few centimetres apart. "The idea behind the song is that they haven't sung out loud in so long, so they just enjoy shouting and screaming for a minute before they run out. We need to find the right tone for that."
Coleman nods sagely, and pauses for a moment: "It's Joseph and his Technicolor Dreamcoat." She grins.
"Damn it," yells Turner. Coleman starts humming "red and yellow and green" at him, before they both give up on words and surrender to infectious laughter.
Lemons Lemons Lemons Lemons Lemons is at the Harold Pinter theatre, London, to 18 March; Manchester Opera House, 21 to 25 March; and Theatre Royal, Brighton, 28 March to 1 April.