admin
•
February 20, 2015
At the BAFTAs Lancôme's team created the makeup looks for 150 faces. It was a military makeup operation, involving a LOT of lipstick – to be precise 300 Rouge in Love lipsticks and over 150 combinations of foundation.
One of those faces was Dr Who's Jenna Coleman who wore a beautiful floral Rochas gown with a triangle cut-out above the waistline. In between chatting about Eddie Redmaye, Jenna told us that she loved how it was comfortable and modern, while stile making a statement.
We caught up with her makeup artist Shehla Shaikh to find out how she created the look using Lancôme products. She told us: 'We wanted to go for a softly smoky eye that defined but didn't take away too much from Jenna's modern, romantic Rochas gown.' Here are the steps to getting the look…
1. Jenna's skin was prepped and evened using Teint Idole Ultra 01 and her under-eyes brightened with Teint Miracle Pen 02.
2. A subtle rose coloured blush was applied to the cheekbones( Blush Subtil Rose Sable)
3. To create the perfect, low key smoky eye, Shehla used Hypnose Palette ST7, gradually blending colour along the socket.
4. For added definition she used a smudge of Brown Kohl Pencil along the lash-line before coating the lashes in Grandiose mascara.
5. Lips were kept natural with a modern nude tone created with a base of 211 Lip Pencil followed by 200B Rouge in Love lipstick to give a subtle sheen.
You can read the full article here
admin
•
February 20, 2015
Andy Gotts who is a photographer that has shot photoshoot's of Jenna in the past has had the pleasure of shooting these wonderful&amazing photographs for fans! How beautiful does Jenna look?;)
Gallery Links:
jenna-coleman.org>gallery>Photoshoots>2014>009
admin
•
February 20, 2015
I have had the pleasure to add photos of Jenna to our Public Appearances  gallery jenna-coleman.org/gallery In this gallery you will see albums such as Doctor Who World Tour photos,Glamour Women of the year awards,BAFTAS and so much more to come.
Gallery Links:
Public Appearances > 2014
admin
•
February 19, 2015
Hello lovelies, I am in the process of adding photos into the brand new gallery for this site, In the gallery I will add Photoshoots TV promo stills,Screencaptures from Interviews and more stuff to come!;) Here is a little preview of the gallery. jenna-coleman.org/gallery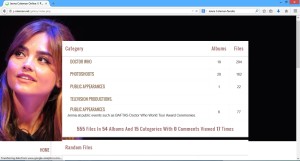 admin
•
February 15, 2015
Hi everyone hello! Welcome to jenna-coleman.org on this website we will be providing you with news on the British actress who is Jenna Coleman, so what will we be bringing to this fansite? We will be bringing new updates of Jenna,photoshoots,screencaptures from her tv shows/movies Doctor Who and more! we hope you will support us and give us feedback! Thanks from team jenna-coleman.org 🙂
admin
•
February 14, 2015
Welcome to WordPress. This is your first post. Edit or delete it, then start blogging!