( 09/18)
Doctor Who companion Jenna Coleman will play Queen Victoria in a new 8-part ITV drama, the commercial broadcaster has this morning confirmed.
Jenna Coleman said: "I am delighted to be cast as Queen Victoria in this ambitious drama of her life. She is a vivid, strong, inspirational and utterly fascinating woman in British history and I can't wait to tell her story."
The Doctor Who star, who announced this morning on Nick Grimshaw's Radio 1 show that she is leaving the TARDIS, will portray the Queen at the age of 18, when she ascended the throne, through to her romance and marriage to Prince Albert.
Produced by Doctor Who producer Paul Frift and directed by Starter for Ten director Tom Vaughan, the series will begin with a 90-minute episode and be followed by seven one-hour episodes.
There are no details of Coleman's Victoria co-stars yet but the show will begin filming in the North of England this October.(SOURCE)
( 09/16)
Jenna and Peter have been photographed by Radio Times for the brand new season of Doctor Who returning this Saturday. I have added HD Photos of the shoot onto our Gallery, enjoy! 🙂
Gallery Link:
Photoshoots>2015>
#010
( 09/15)
Brand new episode stills from the new episode of Doctor Who 'The Magicians Apprentice' have been added into our Gallery,enjoy!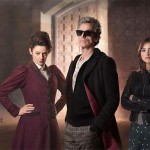 Gallery Links:
Doctor Who>Season 9>Episode Stills>
9×01 The Magician's Apprentince
( 09/14)
I have added a brand new photoshoot of Jenna and co star Peter Capaldi for Radio Times promoting the new series of Doctor Who into our Gallery, enjoy1
( 09/11)
admin
—
Comments are off for this post
Yesterday Jenna attended a premiere of the first two episodes of the brand new season of Doctor Who followed by a Q&A!Some HD Photos of the event have been added to the gallery,enjoy!:)
( 09/10)
BBC America Released a brand new trailer for the new season of Doctor Who! It looks amazing! Sadly if your not in the UK you cant view it but I have been lucky enough to get the video of daily motion!