admin
•
September 27, 2015
(Entertainment Weekly)Last week, Jenna Coleman announced that she is leaving Doctor Who, BBC America's long-running time travel show on which she plays monster-battling schoolteacher Clara Oswald. So, why, exactly, is the British actress leaving behind Peter Capaldi's Doctor — and the TARDIS — now? "Conversations have been going on for a while in terms of where is the best place, how can we tell the best story, time-wise," Coleman tells EW. "We decided last year, it had only been one season with Peter, and there was a lot more to do. So that's what it was, really. It was just about telling the best story we could. So, I'm hoping that's what was done. I'm really pleased with it. I think it's really cool. People will have to wait and see what happens!"
ENTERTAINMENT WEEKLY: I believe you thought about leaving at the end of last season, and then maybe after the special Christmas episode. This time around, did Steven Moffat [Doctor Who executive producer] say, "Are you really really, really sure?"
JENNA COLEMAN:My contract was up at the end of last season, so that initiated conversations of, "Okay, when and how?" I don't know how a story was leaked that I was leaving — it was because the contract was up. There were just ongoing discussions about how to end Clara's story, as it were, in the TARDIS, and this is where it ended up.
Can you say anything specific about when we will see your character leave the show, assuming we haven't already [at the end of last week's episode Clara was seemingly exterminated by those dreaded, armor-clad mutants, the Daleks]?

I can't. But I'm hoping it will be a surprise, and I'm hoping it will stay a surprise. Yeah. [Laughs]
What kind of response have you received since making the announcement you were leaving?
People tweet at you but it's been really warm and lovely, in fact. I have to say, it's kind of a relief because, having known for such a long time, it's really nice to be able to say it.
What was it like shooting your last day on Doctor Who?
It did not feel real at all. I mean, it's become more my home than my home actually is. It was just really weird. But we film out of sequence as well so, my last part with Peter, I couldn't quite look at him because it wasn't supposed to be a sad part. It's hard to go into detail without telling you anything, but I was really overwhelmed. I recognize that it's a special part of my life. The storytelling is so dynamic, and big, and whimsical, and magical. You feel like you're in a fairy tale and it's really hard to walk away from that. It's a lot more than just a job — the friendships I have with the crew and Peter, it's very hard to say goodbye to it.
I know you keep in contact with Matt Smith, who played the Doctor before Capaldi. Have you spoken with him about life after Who?
Yeah, I've spoken to Matt a lot. I speak to Matt all the time anyway. He's been around and he had obviously been through the same things. What happens when you stop chasing monsters and traveling through time and space? I don't know yet. I'll have to wait and see
Although he's in Pride and Prejudice and Zombies. So I don't know that he has stopped chasing monsters.
No. Maybe I never will.
Personally, I want to see a Doctor Who spin-off show with Clara and Michelle Gomez's character, Missy.
Wow, that would be good, right? She is absolutely brilliant. I love Michelle. The problem is, I have to keep reminding myself that I'm not supposed to like her, because she's just so funny, and you get so drawn in by her, and you're like, "Hang on, you're the bad guy!" To not [crack up] with Michelle is a real skill that I had to acquire otherwise we would never have got any shooting done.

When you look back, what will be your fondest memory of working on the show?
Just moments, I think. Moments with Matt and moments with Peter. I mean, literally, you'd laugh the whole way through. You laugh every single day. The production sent me this video of outtakes and things gone wrong, and I sent it to one of my friends, and she just replied, "Your job is ridiculous!" And it is! But it becomes so normal. You start living this other reality that becomes normal to you. I now can't see Peter outside of work doing normal chores because it makes me laugh too much. I'm so used to seeing him with his screwdriver, running down corridors. Yeah, it's unique.

Would you be happy to come back and guest on the show, as Billie Piper did for the 50th anniversary episode?
Yeah, I would always be happy if there was a good story. But I think we'll have to see what happens. How many times have I said that during this interview. "We'll have to see what happens! We'll have to see what happens!"
admin
•
September 25, 2015
(Source) One of the most high-profile small-screen acting gigs opened up last week with the announcement by Jenna Coleman that she is leaving the long-running time travel show Doctor Who, on which she played the semi-titular Time Lord's adventuring companion, Clara Oswald. But the actress says she has no idea about the identity of her replacement – or replacements. "No, I know nothing, absolutely nothing," Coleman told EW last weekend. "Once you're out, you're out!"

On the other hand, Coleman was able to provide an at least partial list of the items she, let us say, permanently borrowed from the Doctor Who set before her departure. "Toward my last couple of weeks, I had my eyes peeled," she said. "So, yeah, I've taken my key – I still have a key to the TARDIS! I have something else which I'm going to reveal afterwards, perhaps, because I don't think they know it's missing yet. [Laughs] And I also took a clockwork squirrel."
Well, everybody needs a clockwork squirrel. "Exactly!
admin
•
September 23, 2015
Doctor Who star Jenna Coleman shares her secret to success and tells us how even working with Peter Capaldi isn't improving her ability to do a Scottish accent in this edition of our 60 Second Challenge. Jenna is nominated for her role as Clara Oswald at the upcoming British Academy Cymru Awards which take place Sunday. Source
admin
•
September 18, 2015
Today on BBC Radio 1 Jenna announced after 4 years of being Clara Oswald she's leaving the tardis in season 9, If you missed the interview you can watch it below. I'm still in denial I can't believe she's leaving 🙁 I have added HQ screencaps of her interview to our gallery!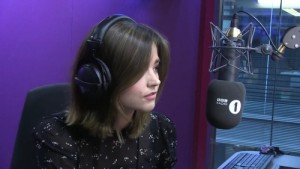 admin
•
September 18, 2015
Doctor Who companion Jenna Coleman will play Queen Victoria in a new 8-part ITV drama, the commercial broadcaster has this morning confirmed.
Jenna Coleman said: "I am delighted to be cast as Queen Victoria in this ambitious drama of her life. She is a vivid, strong, inspirational and utterly fascinating woman in British history and I can't wait to tell her story."
The Doctor Who star, who announced this morning on Nick Grimshaw's Radio 1 show that she is leaving the TARDIS, will portray the Queen at the age of 18, when she ascended the throne, through to her romance and marriage to Prince Albert.
Produced by Doctor Who producer Paul Frift and directed by Starter for Ten director Tom Vaughan, the series will begin with a 90-minute episode and be followed by seven one-hour episodes.
There are no details of Coleman's Victoria co-stars yet but the show will begin filming in the North of England this October.(SOURCE)
admin
•
September 8, 2015
BBC America have released this video of Jenna talking about her character Clara Oswald and how she has changed since the death of her boyfriend Danny Pink.
Jenna has joined the Judging Panel for the 23rd Raindance Film Festival. Raindance presents films and web series from around the world, celebrating and supporting independent, new and alternative filmmakers. Check out the details here
The Festival will take place from the 23rd September – 4th October 2015 in Central London (Piccadilly Circus), screening 100 feature films and over 150 short films.