Category: Public Appearances
I've added Images of Jenna attending BBC Radio 1 yesterday talking about the new season of Doctor Who,enjoy!
Yesterday Jenna attended a premiere of the first two episodes of the brand new season of Doctor Who followed by a Q&A!Some HD Photos of the event have been added to the gallery,enjoy!:)
Jenna has joined the Judging Panel for the 23rd Raindance Film Festival. Raindance presents films and web series from around the world, celebrating and supporting independent, new and alternative filmmakers. Check out the details here
The Festival will take place from the 23rd September – 4th October 2015 in Central London (Piccadilly Circus), screening 100 feature films and over 150 short films.
Jenna and Peter attended a meet/greet in the Apple Store in Berlin promoting the new release of Doctor Who series Eight being released onto bluray! I have added HD images of jenna attending the event into our Gallery, I hope you enjoy!
Jenna attended a Panel at Comic Con called 'Women Who Kickass' she attended the panel with Hayley Atwell,Kathy Bates,and Gwendoline Christie! I've added HQ Images of Jenna attending the event to our Gallery!
The Doctor Who cast visited SiriusXM Studios yesterday, A Few images are uploaded to the Gallery!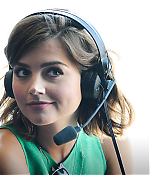 I have gathered images of Jenna and co-stars Peter Capaldi and Michelle Gomez,backstage at San Diego Comic Con! Enjoy viewing them!