BBC have released a video of Jenna introducing the upcoming Doctor Who episode "The Zygon Invasion" You can view the video by clicking on the thumbnail below.:)
I've added HQ episode stills of Jenna in the upcoming Doctor Who episode "The Zygon Invasion" you can view the stills in our gallery! Enjoy!:)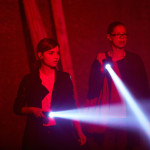 I've added HD screencaps of Jenna from saturday night's episode "The Woman Who Lived" sadly she wasn't a main cast and was only in a scene at the end but it was still amazing, anyway you can view the HQ screencaps by clicking the thumbnail below.:)
I've added a HQ image of Jenna in the upcoming episode of Doctor Who "The Zygon Invasion" to our gallery,enjoy!
Gallery Link:
Doctor Who > Season 9 > Promotional Images >
9×07-The Zygon Invasion
I've added HD Images of Jenna in the latest Doctor Who episode "The Girl Who Died" enjoy!
I've finally added HQ images of Jenna in Saturday night's episode "Before The Flood" to our gallery,enjoy!
I have added HQ Images of Jenna in the upcoming Doctor Who episode entitled"The Girl Who Died" to our gallery-enjoy