( 09/16)
Jenna and Peter have been photographed by Radio Times for the brand new season of Doctor Who returning this Saturday. I have added HD Photos of the shoot onto our Gallery, enjoy! 🙂
Gallery Link:
Photoshoots>2015>
#010
( 09/15)
Brand new episode stills from the new episode of Doctor Who 'The Magicians Apprentice' have been added into our Gallery,enjoy!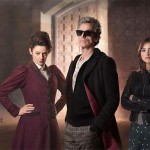 Gallery Links:
Doctor Who>Season 9>Episode Stills>
9×01 The Magician's Apprentince
( 09/14)
I have added a brand new photoshoot of Jenna and co star Peter Capaldi for Radio Times promoting the new series of Doctor Who into our Gallery, enjoy1
( 09/11)
Yesterday Jenna attended a premiere of the first two episodes of the brand new season of Doctor Who followed by a Q&A!Some HD Photos of the event have been added to the gallery,enjoy!:)
( 09/10)
BBC America Released a brand new trailer for the new season of Doctor Who! It looks amazing! Sadly if your not in the UK you cant view it but I have been lucky enough to get the video of daily motion!
( 09/08)
BBC America have released this video of Jenna talking about her character Clara Oswald and how she has changed since the death of her boyfriend Danny Pink.